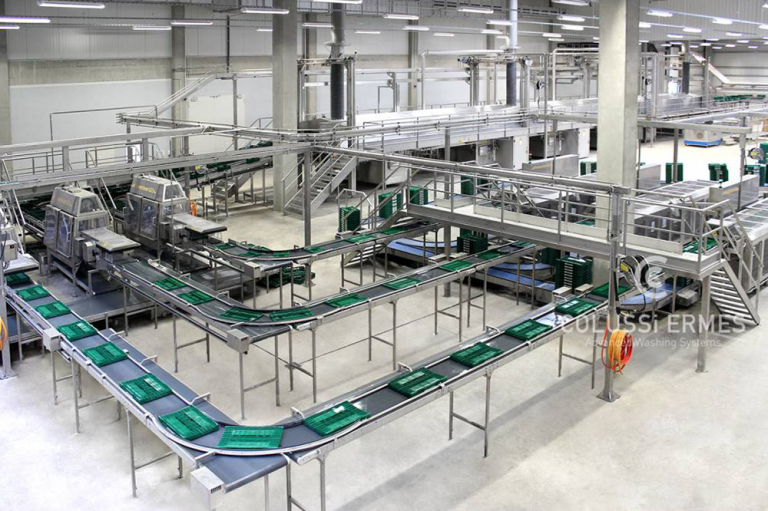 Stainless steel structure with thick insulated panels to prevent heat dispersion. This technology offers a dual purpose: reduction in energy consumption and noise reduction.
Full inspection of the crate washing system possible thanks to a special mechanical system which allows the top part of the tunnel to be raised. This section of the tunnel has no gaskets, ensuring maximum hygiene.
Efficient automated washing system for crates of different sizes, without needing to set the machine for a different shape.
Constant and uninterrupted monitoring of the functions and critical parameters.
Automatic, high-pressure Crate Washing Systems for collapsible, rigid, and stackable crates and baskets, suitable for all sectors of production. For smaller throughput requirements to industrial operations, the flexible crate washing systems are designed to obtain maximum energy efficiency, and reduce water and detergent consumption, whilst removing even the most stubborn residue. Developed and manufactured for your specific requirements, the flexible systems are capable of processing capacities for a few pieces to up to 10,000 crates per hour. A range of options are available to further enhance performance.
Available in a range of executions: Cabin with manual or automatic opening, with a single door or double "pass-through" doors; tunnel with 1 or 3 tracks, horizontal or vertical.
Flexible: Allows crates of various shapes, sizes, heights, and dimensions to be processed simultaneously.
Responsible dosing of chemical solutions to protect the environment as well as the operators involved in the crate washing.
Possibility of drying the crates using traditional methods or spin drying technology.
HACCP Compliant: Interfacing with centralised monitoring systems compliant with HACCP standards.
Tailor-made: Crate Washing Systems are manufactured to your specific requirements.
© Colussi Ermes s.r.l. – Advanced Washing System
MEAT
POULTRY
FISH
PET FOOD
CHEESE/DAIRY
PLANT-BASED
BAKERY
VEGETABLE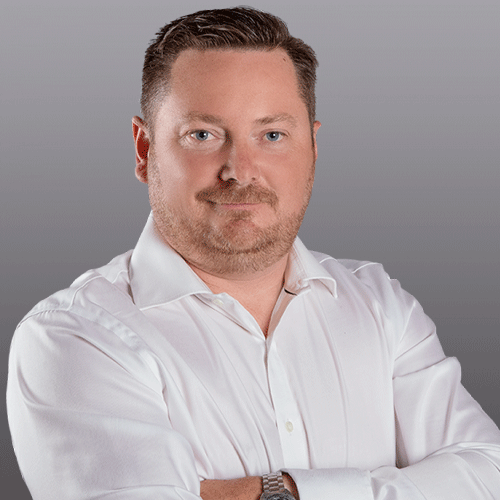 Divisional Manager – Thermal Processing and Conditioning
"From smaller operations to large-scale industrial facilities, our flexible crate washing systems cater to diverse throughput requirements, ensuring optimal energy efficiency while minimizing water and detergent consumption. With advanced technology, these systems deliver outstanding results, ensuring your crates are thoroughly cleaned, saving you valuable time and resources. The Colussi Ermes range is available with options to further enhance performance and tailor the system to your specific requirements. Contact us today to find out more."
ADDITIONAL PRODUCT INFORMATION
Colussi Ermes Crate Washing Systems
Innovation and organisation to guarantee competitiveness, and flexibility and quality for absolute environmental protection.
With over 50 years of experience, research, and innovative development, Colussi Ermes has manufactured thousands of washing systems that produce the highest level of performance for processors throughout the world. Innovative design, rounded shapes, accurate details, and high efficiency: a tailor-made concept to address a variety of complex requirements and produce solutions that ensure optimum results. The Crate Washing systems are designed to facilitate factors including available floorspace, production capacities, the type of residue/soiling to be processed, power supply, and reduction of energy consumption.
The tailor-made crate and basket washing systems are fully automated and manufactured according to extremely high-quality standards which, thanks to particularly high-pressure systems, are able to eliminate even the most stubborn dirt and residue.
The advanced systems facilitate responsible dosing of chemical solutions for both operator safety and environmental protection. With consistent monitoring of the functions and critical parameters, the systems featuring state-of-the-art technological systems for the extraction of fumes, innovative filtering systems for continuous removal of residue produced by the washing cycle.
Contact us for more information on this or any other product we offer.