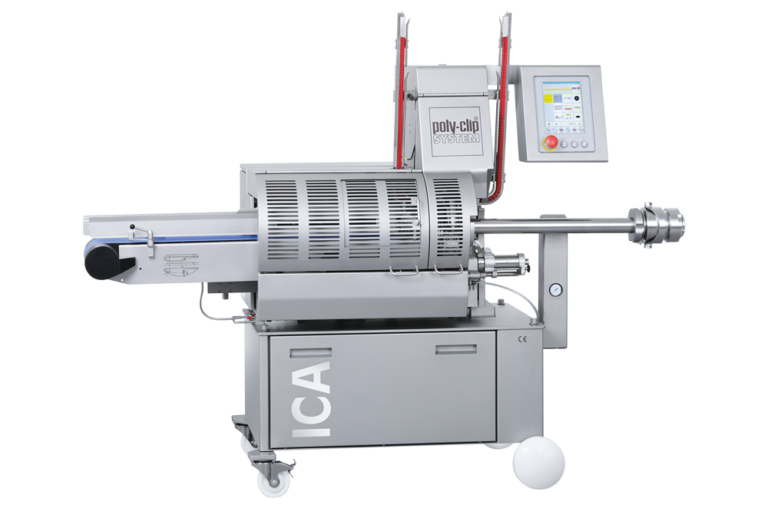 Programmable and infinitely variable conveyor speed.
Unique iris separator for short, symmetrical sausage shoulders.
Simple machine operation with SAFETY TOUCH panel, including recipe management.
Capable of up to 60 cycles per minute in continuous mode.
ICA Automatic Double-Clipper
The Poly-clip System ICA automatic double-clipper is designed for large diameters. Mechanically connected to filling machines, the ICA encloses the casing and separates whole muscles without damage to the casing. The unique iris separator also produces short, symmetrical sausage shoulders. The ICA is operator-friendly as it utilises manual functions which make using the machine as easy as possible without the need for a specialist operator.
Pneumatic movement of the clip head for reloading of casing
Casing brake can be adjusted from outside while stuffing
Unique iris separator for short, symmetrical sausage shoulders
Low noise operation and low air consumption
MEAT
POULTRY
FISH
PET FOOD
PLANT-BASED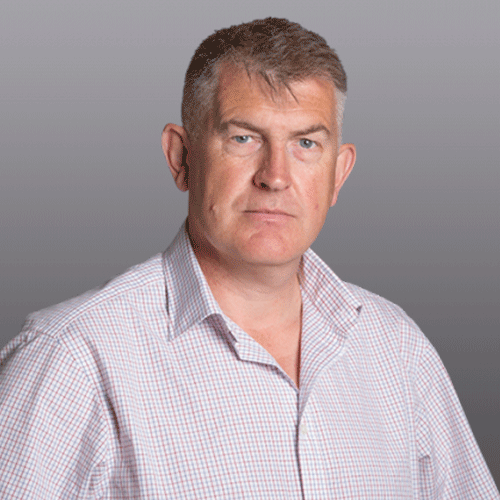 Divisional Manager – Curing to Clipping
"If you are producing large diameter logs for slicing you need an ICA. For diameters up to 200mm it remains the industry standard in the UK and Ireland. The ICA can be integrated into your existing production line or supplied as part of a whole line solution. Contact us for more information."
ADDITIONAL PRODUCT INFORMATION
Poly-clip System ICA Automatic Double-Clipper
The ICA allows the product to fill out to an exact calibre as the conveyor speed is programmable and infinitely variable, allowing you the choice of speed suitable to your product and operation. The machine is user-friendly with a simple operation using SAFETY TOUCH HMI, this system can also recall product parameters from the recipe management system, making it simple and efficient. There is also a USB port for data import and export. The machine is simple to clean and is safe to use. The electronic hand-wheel for adjustments and setting parameters allows you to adjust it to your requirements.
There is also additional safety by a two-handed triggering of the first clip, ensuring the safety of the operator. The short clip cycles are for a high-level output, maximising efficiency, and minimising production time. The compact design of the machine is ideal for a production space and it requires a low air consumption. The machine is also easy to maintain, has a hygienic design and is made from stainless-steel. The smooth surfaces allow for a simplified cleaning and the conveyor belt contact surface is also made from stainless-steel with a smooth surface and rounded edges.
Contact us for more information on this or any other product we offer.