Weber is well known throughout the world as the leading manufacturer of high performance slicing equipment and has now added a packaging machine to its portfolio of high-quality equipment. Weber can now manufacture and supply complete slicing line solutions of which Interfood Technology has now installed the first in the UK.
Interfood is the partner for Weber and Textor equipment in the UK and Ireland, working closely with the Germany based business to bring tailored slicing solutions to food processors through its dedicated Slicing Division. The wePACK 7000 thermoformer has been developed to offer high-speed, state-of-the-art packaging specifically designed for slicing applications. Built to the exacting hygiene standards for which Weber is renowned, the thermoformer offers maximum output in a machine that can be fully integrated into a slicing line. It uses the same operating system as that employed in Weber's range of slicers, with a high degree of commonality of electrical and pneumatic components to ensure ease of integration and operation, with full line operation achieved via the Weber Power Control system.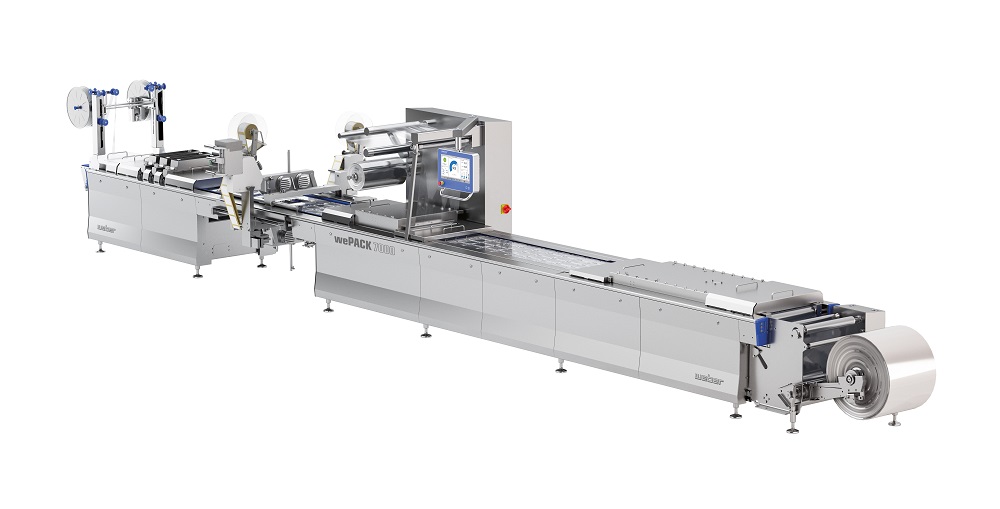 Infeeding and picker systems can be incorporated within the machine's frame to reduce footprint and to achieve cost-effective production. It can accommodate a variety of pack types and sizes.
Interfood has worked with a multi-site major manufacturer of retail cooked meats to introduce the first wePACK 7000 into a UK slicing line. Its success has already led to orders for two further slicing and packaging lines for the same customer.
Commenting on the thermoformer, Andre Clareboets, Group Divisional Manager for Slicing at Interfood, said – "we already offered end-of-line packing and inspection systems but the wePACK 7000 has added a whole new dimension with a packaging capability that is designed specifically to integrate seamlessly with the Weber and Textor slicers. We are often involved in developing full turnkey solutions to meet specific slicing requirements. This further extends our capabilities, with customers now able to source a fully integrated slicing line, from product preparation right through to quality-checked primary packaging, all from a single source."
In addition to ease of operation, attention has also been paid to servicing in the development of the wePACK 7000. Interfood's technical and service support team is made up of highly trained specialist engineers, all OEM trained to offer on-site or remote on-line support.
The Weber and Textor range are exclusively available in the UK and Ireland from Interfood Technology's dedicated Slicing Division.