More processors are turning to robotics to eliminate tedious tasks, freeing workers to focus on higher value work.
What are the main drivers for automated processes in food processing?
Automation continues to be a key trend with processors increasingly looking to find ways for machines to take over what can be very labour-intensive processes. The uncertainty around Brexit and the potential impact on the availability and cost of labour is helping to fuel this. Automation is about improving productivity and ultimately profitability, but it is also about food hygiene. If you can minimise the need to handle a meat product then in doing so, you are significantly reducing the potential for product contamination.
Are robots starting to have a more pivotal role?
In the last 12 months, we've seen robotics and higher levels of automation becoming a more common feature in food processing operations. An example is Weber who we
represent in the UK and Ireland, with its WPR pick robot and WSS flexible product transport systems. Weber is known as a slicing company so we were originally seeing it adopted in slicing lines. But now we are seeing interest from a much wider range of applications, including ready meals and other make up lines.
What are the main advantages afforded by robots?
Robots provide a precision and speed that is not achievable through hand-picking, as well as improving efficiency and consistency/repeatability. The WPR features an integrated camera system, which checks that each individual portion is picked and placed accurately to ensure optimum positioning and orientation within the package. The WSS system is a transport system that can solve many issues in complicated lines.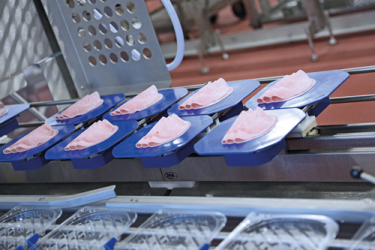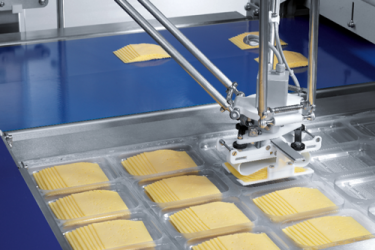 Are there any other areas that could benefit from greater use of automation?
End of line packing is an area in which automation is increasingly being applied. In addition to the packing of boxes, a further example is the precision that automation can offer in accuracy of weighing. Modular grading systems ensure accurate weighing of various sizes and weights of meat products as they are transported across a single weigh-conveyor. This can also be integrated with other operations, such as a depositing system, which can automate the hand salting and curing process for bacon.
Are there opportunities to automate processes in terms of quality checking?
Yes, this is a real area of development. A consequence of introducing automated case packing is that it allows a reduction in the number of operatives, thereby offering cost savings. However, in doing so, this removes, or significantly reduces, manual quality checks. 
The Weber range of loading and automation solutions are available exclusively from Interfood Technology in the UK and Ireland.