Each variety of cheese comes with its own set of unique challenges during processing. Weber understand the intricacies of cheese processing, and have developed a portfolio of preparation, slicing, and packaging technology for addressing these bespoke challenges in order to optimise your cheese production.
From precise slicing to seamless loading into a variety of packaging formats, Weber's line solutions are designed to make cheese production challenges a thing of the past.


Weber's comprehensive whole line solution for cheese production encompasses the weSLICE 9500 Slicer alongside the weDIVIDE automatic block cutter and wePACK thermoformer. Together, they deliver unrivalled results in terms of precision, yield recovery potential, portion presentation, and output capabilities.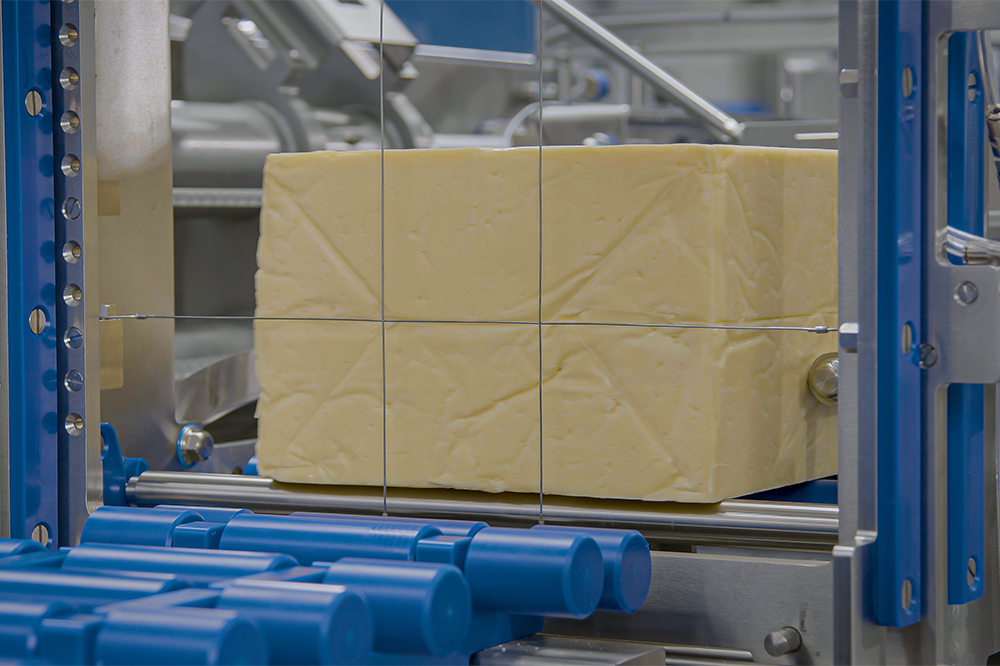 The weDIVIDE features patented continuous wire tension and automatic wire or knife adjustment to ensure precise splitting of the raw block. Post division an integrated weigher and sorting of inner & outer sticks perfectly prepares and organises cheddar and continental products for slicing. The weSCAN range of proactive scanning systems, assists weight control by measuring and weighing blocks before transfer to the slicer. With the ability to see inside continental cheeses with holes via the weSCAN 7000, which determines the distribution of internal cavities prior to slicing. This allows the slicer to accurately determine how best to utilise each stick ensuring accurate slicing results from the first slice to the last.
Our vario grippers handle each stick individually, maximising product utilisation by feeding them independently toward the blade. When equipped with our in-house developed, ultra-efficient vacuum grippers end piece size can be reduced by up to 50%, and with the only vario interleaver on the market, there's no compromise in performance when slicing interleaved products.
The weLOAD infeeding system transports products gently and efficiently to the packaging machine, with gentle ramp up speeds to get portions from A to B. With optional integrated camera at the loading point for automatic adjustment of portion positions as they come downstream, ensuring continuous repeatable positioning in the finished pack.
Boasting the strongest machine frame on the market, the wePACK thermoformer built specifically for sliced applications within the food industry, compliments the upstream equipment perfectly.
It features a six-column lifting system at the forming station as standard, web edge control (top & bottom), and a fast-change cassette-based rotary shear knife system with automatic tool-less tension settings., available with a range of integrated converging options via the weSORT convergers, allowing a complete end to end from a single source, with no weak links.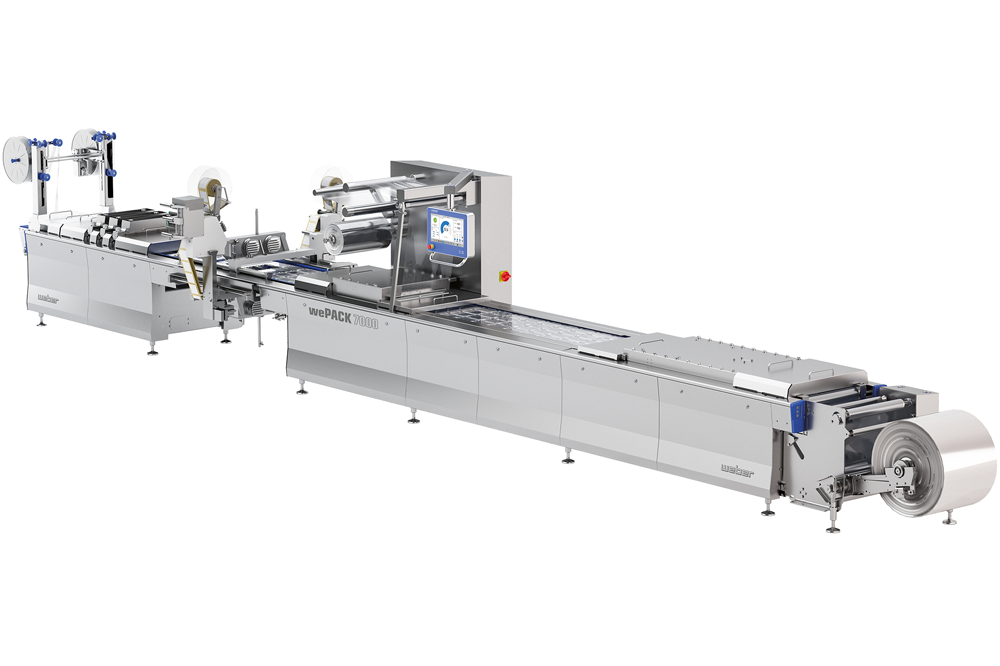 With this system you can expect;
All of the above could be run with only 2 to 3 operators with true line integration via Weber ONEcontrol, giving them the ability to operate any component from any HMI on the line.
In summary, Weber's whole line solution redefines cheese production standards, setting new benchmarks for accuracy, yield recovery, and sustainability. Discover how Weber is shaping the future of food processing, one slice at a time.
The Weber range of solutions are exclusively available in the UK and Ireland from Interfood Technology's dedicated Slicing and Packaging Line Solutions Division.