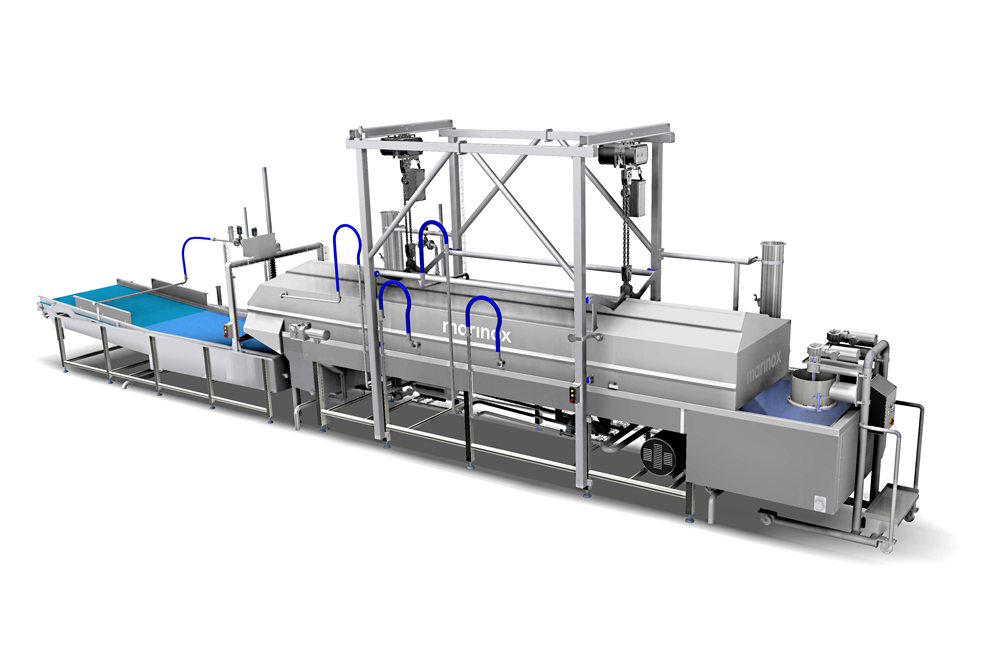 The CK1500 Continuous Cooker from Marinox is a highly flexible and versatile continuous cooking solution, offering gentle processing and high hourly output. The CK1500 cooks with water and is available with or without sinking tub technology. With modern and user-friendly operation, recipe adjustments can be made in seconds, and process data is recorded for quality assurance purposes. A wide variety of products can be processed with the CK1500 system, including floating and non-floating products, such as ready meal components, vegetables, dumplings, soup ingredients, meatballs, filled pasta, and dry pasta.
Efficient: Processes up to 3000 kg/h
Energy-efficient: Insulated warm water pan
Hygienic: Automatic CIP cleaning system and automated conductivity measurement
Modular: Expandable with various modules such as cooling conveyor or conveyor technology
© Staedler Automation AG.
MEAT
POULTRY
FISH
PET FOOD
PLANT-BASED
BAKERY
VEGETABLE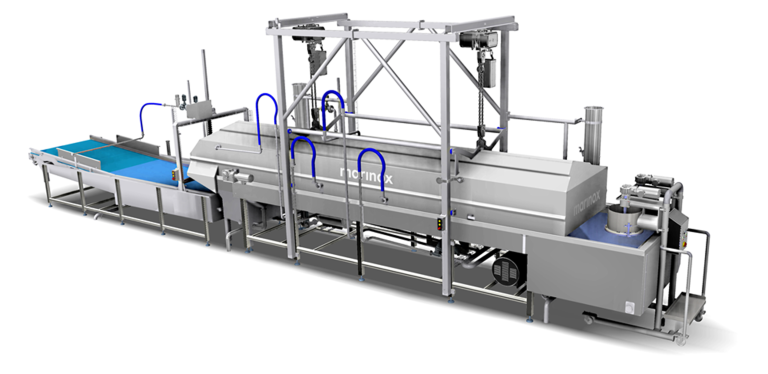 Cooler with town and/or ice water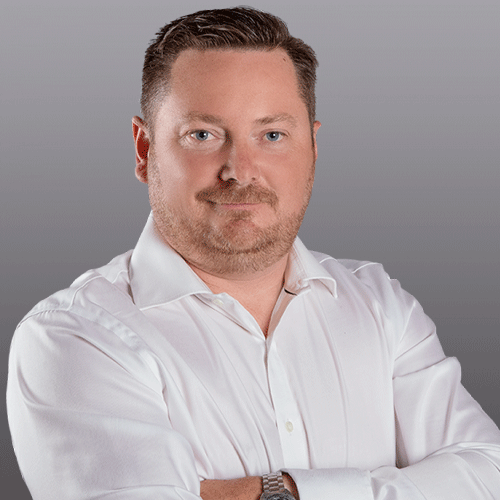 Divisional Manager – Thermal Processing and Conditioning
"For larger-volume processing operations, the CK1500 provides output up to 3000kg/h. Modularly designed, the CK1500 can be expanded through cooling conveyor or conveyor technology, providing the right solution for any customer or requirements. Contact us for more information."
ADDITIONAL PRODUCT INFORMATION
Marinox CK1500 Continuous Cooker
The CK1500 cooker enables you to cook open unpacked food continuously. It has a modular design – making it ideal for different outputs. The CK1500 is available as a freestanding unit or to be integrated into an entire cooking line. The CK1500 cooks products gently in the system despite its high hourly output. The system does not require any mechanical parts in the water bath. The operation of the system is modern and user-friendly. The cooking process can be easily monitored. The recorded process parameters can be easily tapped from the system for quality assurance purposes.
Thanks to the integrated automatic CIP cleaning, the CK1500 is clean again with minimal effort. This eliminates unnecessary costs for energy and cleaning agents. The insulated warm water pan also makes the CK1500 an energy efficient cooker.
Do you want to increase your production volumes or modernize your production? The compact and modular design of the CK1500 in combination with modern automation is perfect for this.
CK1500 Continuous Cooker

Hourly capacity

Up to 3000 kg/h Dry Pasta with 4 minutes cooking time

Inner bath width

1500mm

Cooking time

Variable from 2 to 18 minutes

Heating type

Electrical or steam
Contact us for more information on this or any other product we offer.